The time of year is upon us...school is coming back to haunt us, and the summer streak of horrid games is coming to an end. One set of games that will be breaking the bad streak in a couple months is the Diamond/Pearl sets. On the official Japanese site, there is a small game that, when you talk to a person, pretty much confirms that the new starting triangle will be fighting/dark, psychic. Recently, 3 pokemon have been popping up on the internet like crazy, sprouting out from the other fakes we've been enduring.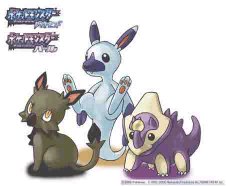 These are the most believing as of late and are the most likely to be the new starters at this point.

Triceratops=Psychic

Kangaroo=Fighting(My personal favorite of the group)

cat with a beak(griffin evo later?)=Dark

Any discussion on these( picking your favorite or talking about the game) is welcomed.

Edited by Teej on August 5, 2006 at 0:28:19.